IBARMIA
MULTIPROCESS
MULTITASKING MACHINING
Technology by machine Series:
MANUFACTURING TECHNOLOGY
Z SERIES
MOVING COLUMN MACHINING CENTERS
For the largest variety of sizes and shapes, pendulum work and swing up to ø2000 mm.

5 AXIS MILLING, HORIZONTAL-VERTICAL TURNING AND GRINDING
A combination of axes and processes that make it the most flexible concept in moving column machines, the Z MULTIPROCESS SERIES combine one or two rotating axes (A, C) for 5axis machining, turning, advanced gear cutting, skiving… and grinding capacity to completely finish parts in one set up with the possibility to increase the productivity by adding pendulum work.
Go to model
T SERIES
UNIVERSAL 5 AXIS MACHINING CENTERS
For large diameters up to ø3600 mm and automatic pallet changing.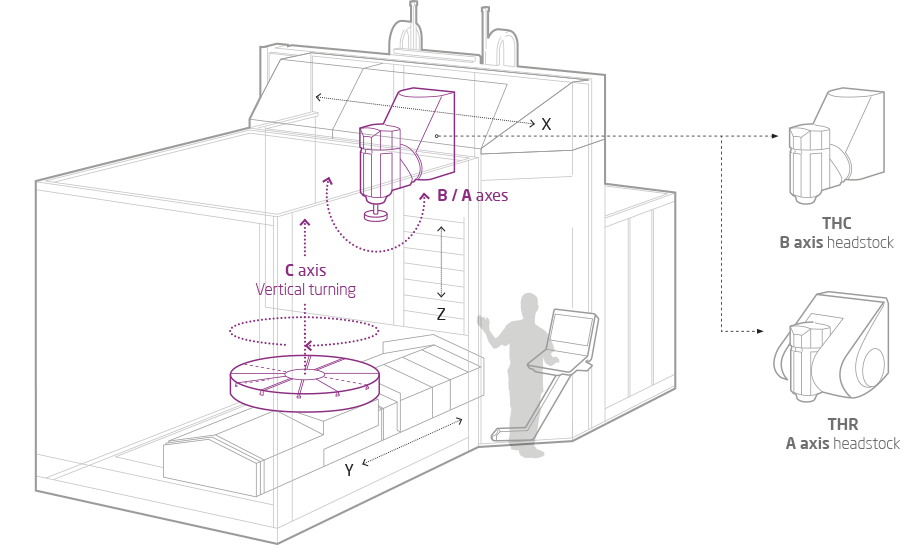 5 AXIS MACHINING, VERTICAL TURNING AND GRINDING
The T MULTIPROCESS models incorporate rotary tables with high dynamics and accurate positioning for 5axis machining, turning and advanced gear cutting operations together with grinding capacity to complete parts in one set up. The torque motor tables offer high torque and dynamics with a wide range of speeds and load capacities.
Go to model
WANT TO KNOW MORE?
Contact us to learn more about multiprocess technology.
CONTACT US
CONTACT US
Complete the form and tell us the reason for your inquiry so we can help you.
You decide
"Ibarmia makes the machine following your needs"
Contact with IBARMIA for further information
Contact us