New
SUD AERO_ Manufacturing and assembling sub-assemblies for major contractors in the aerospace industry
Located in the heart of the European Aerospace industry in Toulouse, this tier-1 supplier employs over 140 staff spread across 4 complementary production sites.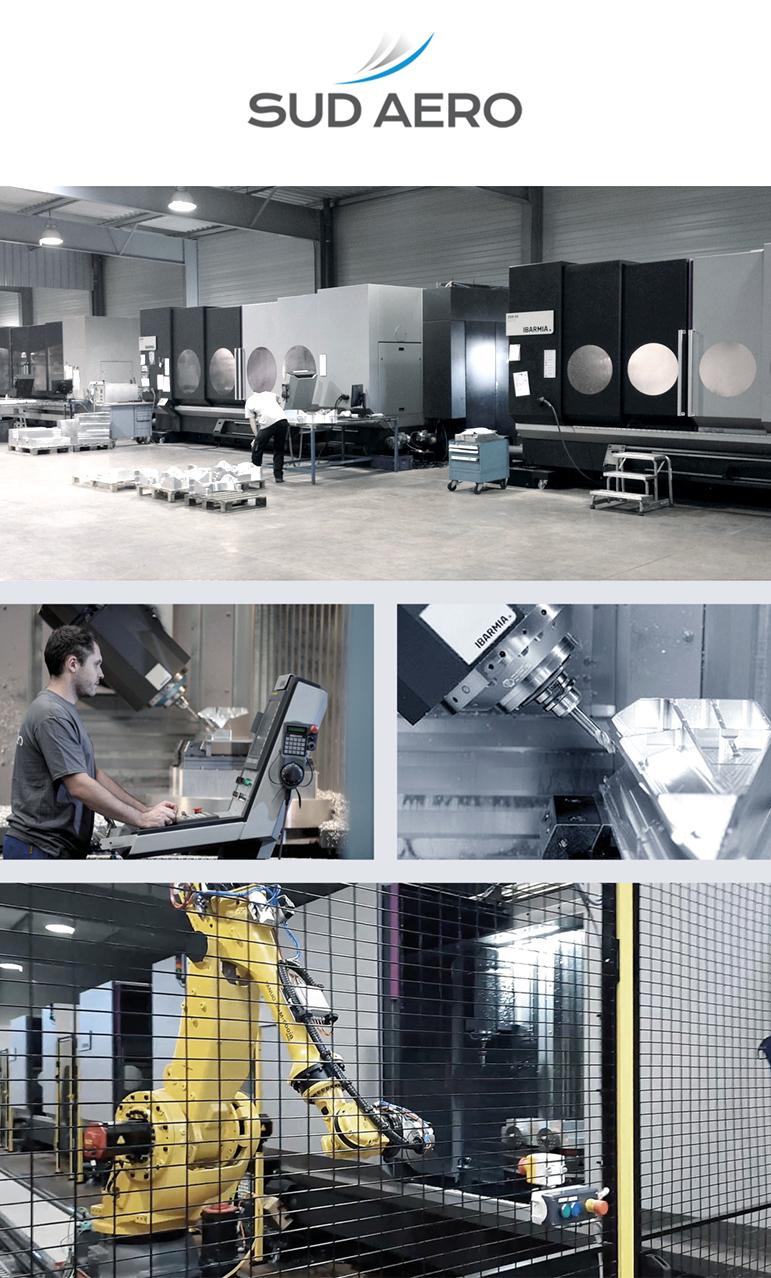 SUD AERO had been using IBARMIA machines since 2013 when they installed a ZVH 45/L2200 and a ZVH 45/L4000 with integrated rotary tables to machine a wide range of components in 5axis and other variety of parts by using the generous fixed tables.
In 2016, SUD AERO invested in a new plant to take their business to a higher level. Modern premises with the highest technology machines in a fully automatic environment with absolutely no margin for human error. A reliable production cell that can work autonomously day and night.
4 IBARMIA machines in line, ZVH 45/L1600 EXTREME with a ø800 mm rotary table for 5axis works in up to ø1100mm parts. Modern technology spindles, a torque motor driven B axis and the usual dynamics, accuracy and reliability of the IBARMIA machines.
A FANUC robot travels from machine to machine ensuring that every unit is constantly working by making quick job change overs and bringing the finished parts to pallet storing positions.
Guillaume Assorin, General Director at SUDAERO explains:
"We purchased 2 IBARMIA machines for 5 axis jobs 3 years ago and we confirmed the superior performance of these machines. We decided to renovate our trust in IBARMIA by purchasing 4 more 5axis machines integrated in a robot system. This automatic cell allowed us getting a huge amount of work orders by a getting drastic reduction of production times".
Today SUDAERO proudly owns 8 IBARMIA machines for 5 axis works. During the impressive growth of SUDAERO to the point of becoming one of the key suppliers for AIRBUS, the company acquired more IBARMIA machines in the second-hand market, showing their total confidence in the performance and reliability of these machines, Mr Assorin often open his doors in Toulouse to companies interested in investing in similar production cells and of course to all potential customers for his machining services.
SUBSCRIBE TO OUR NEWSLETTER
Subscribe to our newsletter to keep up to date with all our news.
SUBSCRIBE
SUBSCRIBE TO OUR NEWSLETTER