New
IBARMIA WILL PARTICIPATE IN THE CIMT-BEIJING 2023 FOR ONE MORE YEAR
From April 11 to 15, 2023, the 17th edition of China's leading machine tool fair will take place in Beijing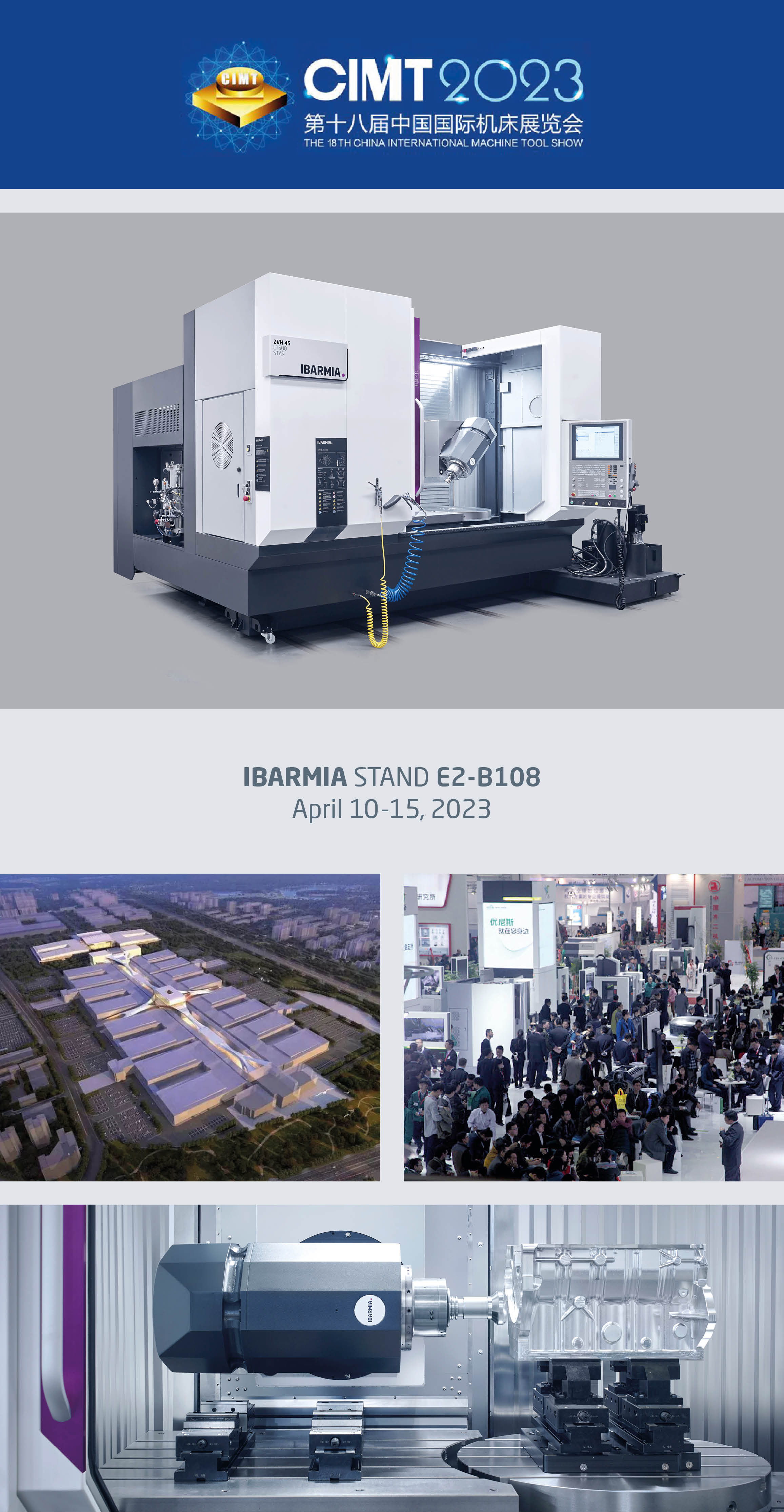 It will be five days of fair, where the focus will be on exhibitors coming from all over the world to present their new products, cutting-edge technologies and innovative services. IBARMIA will be present once again, and IBARMIA distributors and customers from all over the world will gather to enjoy a tailor-made agenda for the IBARMIA Community, which will go far beyond the visit to the exhibition. Highlights will include the following:
- Live presentations of technologies and machines, specifically the top-selling STAR machining center, which will be live in the IBARMIA exhibition space.
- Interactive presentation of IBARMIA's T12 5-axis universal machining center.
- Large scale model of IBARMIA's machining center for large circular parts, C SERIES.
- Exhibition of parts machined on IBARMIA machining centers.
- Live demonstrations and technical talks.
- Great opportunity to meet IBARMIA's technical and commercial team.
Z SERIES: MOVING COLUMN MACHINING CENTERS ZVH 45/L1500 STAR EDITION
This moving column machine is a high end 5 axes machining center that integrates the IBARMIA advanced technology. This model can carry out 5 axes machining covering the widest range of machining requirements without adding additional options. The machine base is manufactured with Monoblock design. The linear travels of X,Y & Z take place on the same reference base, so the precision of the machine can maintain its consistency and synchronicity. Additionally, the moving column architecture of 5 axes machine tool center in ZVH Serie won several awards in Europe due to its advanced design concept. It is characterized for its RAM installed directly on the vertical column, moving along X, Y & Z axes together with the column. This kind of structure completely resolves the physical head down errors caused by RAM extension, which enables IBARMIA 5 axes machine tool center of ZVH series to achieve high precision and high machining capacity.
You will find us at E2-B108. We look forward to seeing you!