New
THE CIMT 2021 EXHIBITION HAS BEEN A SUCCESS FOR IBARMIA
NORMALITY IS CLOSER: LARGE ATTENDANCE AT THE IBARMIA STAND AT THE CHINA INTERNATIONAL MACHINE TOOL EXHIBITION (CIMT)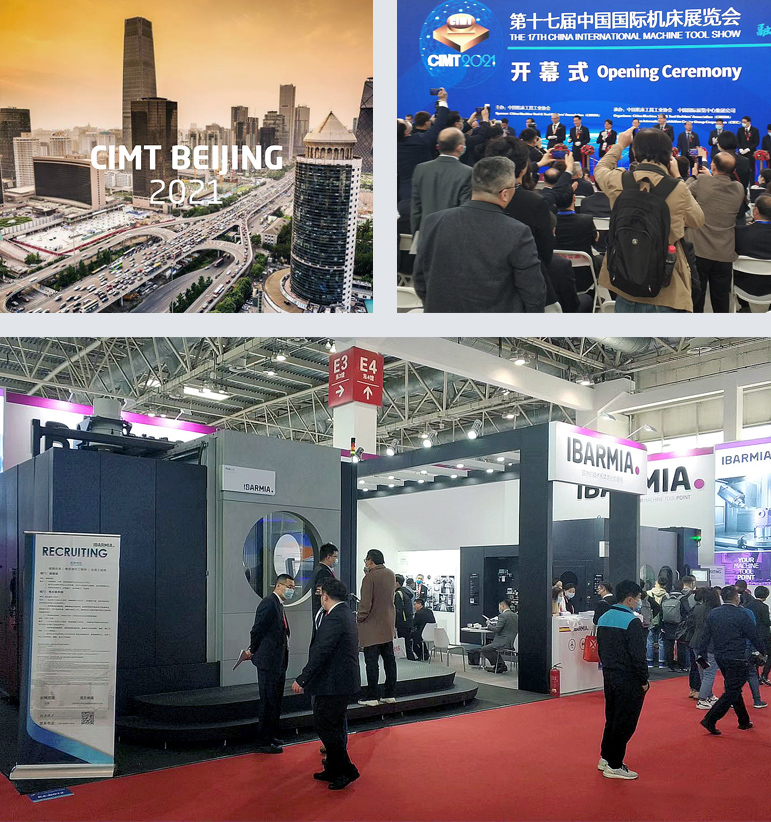 April 12, 2021will be a day to remember. IBARMIA had the great pleasure of attending the opening ceremony of the 17th edition of the CIMT (China International Machine Tool Exhibition) in Beijing. Since the beginning of the pandemic, the main internationally renowned machine tool exhibitions have been suspended and postponed one after another, and the 12th of April, one of the four main international machine tool exhibitions of the world opened its doors.
After the inauguration of the new IBARMIA production plant in Qingdao, we were really looking forward to presenting our project to the Chinese market in a closer way. Therefore, after waiting for such a long time with hardly any direct contact option with our customers, this has been a exciting opportunity that strengthens us for the future.
From April 12 to 17, IBARMIA China exhibited 2 of our most advanced 5-axis machines.
The exhibition gave us excellent results
The very first day of the exhibition, our customer HIMILE GROUP, who was interested in one of our IBARMIA machining centers, confirmed the purchase of the THR 12 EXTREME directly at the Stand a few hours after the beginning of the event. This is how we like to start!
On the second day we had to hang up the "SOLD OUT" sign on the two machines on display, when a very important aircraft structural parts manufacturer located in Shanghai confirmed the purchase of one of IBARMIA's most advanced 5-axis machining centers, the ZVH 45/L1500 STAR.
A third universal multiprocess machining center was also sold, the THR 12 MULTIPROCESS for vertical turning and multiplane milling. Last but not least, the automotive giant FAW FORGING GROUP confirmed the purchase of the fourth machining center, the ZVH 45/L3000 STAR.
The number of visitors during the exhibition has been exceptional, and it has reminded us to the pre-pandemic times. In short, the welcome of the Chinese market has exceeded all our expectations and we only can say THANK YOU!! .
Congratulations IBARMIA China team !!
SUBSCRIBE TO OUR NEWSLETTER
Subscribe to our newsletter to keep up to date with all our news.
SUBSCRIBE
SUBSCRIBE TO OUR NEWSLETTER