New
Hybrid machines: the industrial solution of the future
The ADD+PROCESS technology integrated in IBARMIA's ZVH machining center, combines additive manufacturing with conventional machining processes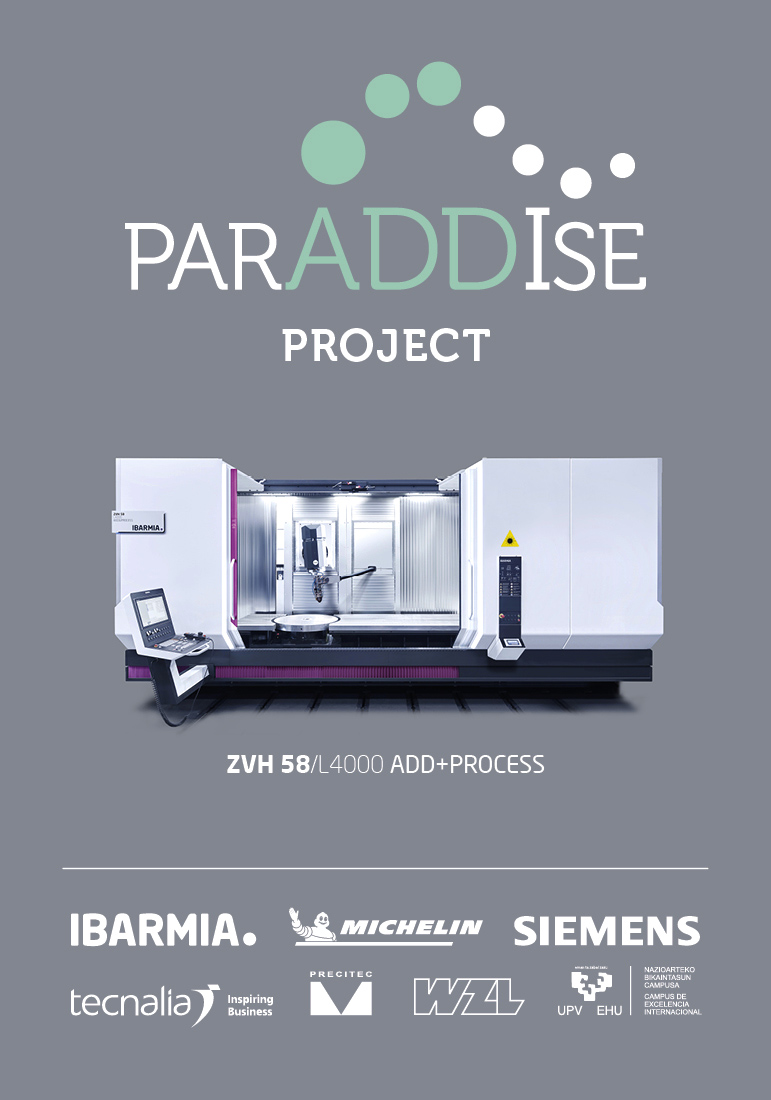 In the field of additive manufacturing, IBARMIA has participated in the European project PARADDISE, that has developed a hybrid manufacturing technology that brings together additive manufacturing (AM), known as LMD, and conventional machining – milling and turning – processes. Hybrid machines can bring together multiple processes, such as laser metal deposition (LMD), in a single machine capable of carrying out the entire manufacturing process of such parts. That is why, they are expected to be the industrial solution for producing highly complex components. Nowadays we already have many hybrid machines in the market, but they still present key challenges for their commercialization and adoption in the market.  They still lack maturity for the industry and further research is needed for the development of their auxiliary elements, such as software solutions, monitoring and control. Within this scope, IBARMIA has collaborated with other entities such as Siemens, Tecnalia, UPV, Michelin, GKN Aerospace, Precitec and WZ, in the PARADISE project, where the ADD + PROCESS technology has been integrated into the IBARMIA ZVH 45/1600 machine. The project has also developed an intelligent system for controlling the height of the layer of supplied material. This high productivity 5-axis machining center, with a fixed table and moving column architecture, can execute various manufacturing processes. The combination of the ADD+PROCESS technology is possible thanks to a LMD head attached to the tilting head of our 5axis machines which provides the same range of movements of a milling tool but working in the opposite way: adding material instead of removing it. This hybrid remove-additive process has already been industrialized for Michelin France, which is already manufacturing parts with hybrid technology for repairing large extrusion screws. In addition, the IBARMIA ZVH 45/1600 Add + Process hybrid machine for LMD and machining, integrates smart technologies as well as a monitoring system for metal LMD process and a LMD materials and process database, that comprises 12 technical tables containing relevant information such as productivity, geometry, and powder efficiency. In the same way, with a CDTI in collaboration with Danobatgroup, Ona Electroerosión and Mizar, IBARMIA is also working on strengthening its internal capacity for additive manufacturing of components for its own machines. In this way, in addition to improving its competitiveness, it will facilitate the acquisition of knowledge in these processes and will allow adding new perspectives to internal design processes. Thanks to this improvement manufacturers of value-added metallic components can produce reliable high-quality parts, using less material and energy resources. This in turn will reduce manufacturing costs and is expected to increase the scope of the solution for wider adoption in other market segments.
SUBSCRIBE TO OUR NEWSLETTER
Subscribe to our newsletter to keep up to date with all our news.
SUBSCRIBE
SUBSCRIBE TO OUR NEWSLETTER