New
HARNESSING THE INEXHAUSTIBLE ENERGY OF THE SUN
THANKS TO OUR NEW SELF-CONSUMPTION SOLAR PHOTOVOLTAIC INSTALLATION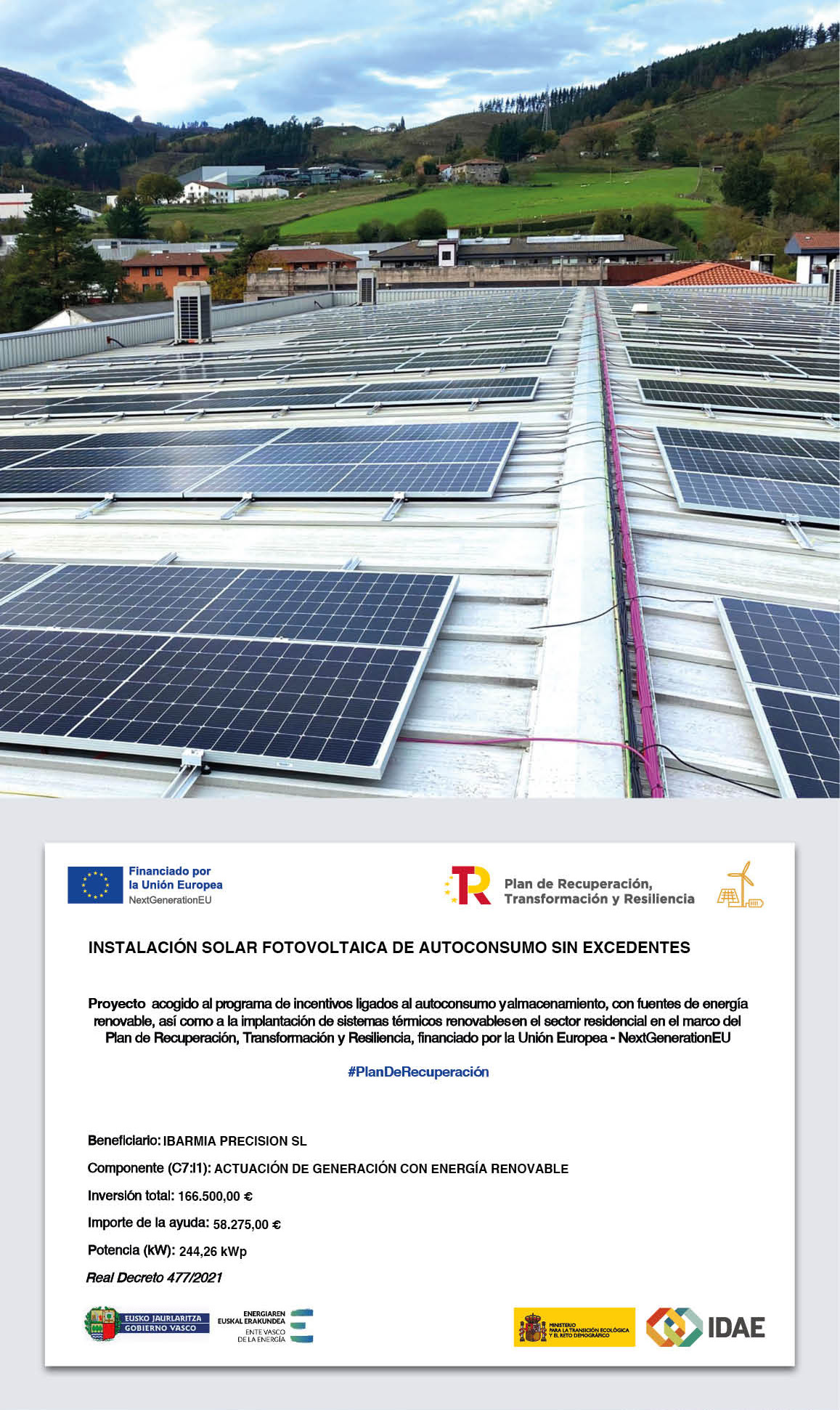 With the aim of taking a giant step towards the sustainability of our company, we have installed 531 photovoltaic modules of 244 kW on the roof of IBARMIA's headquarters in Azkoitia. With this initiative, IBARMIA takes an important step towards sustainability and reducing its environmental impact.
Thanks to these panels, we achieve the self-generation of more than 20% of our annual electricity consumption, with the consequent savings in CO2 emissions, carbon consumption or environmental impact due to the felling of forest mass.
The solar panels installed have a total capacity of 244 kW and are expected to generate more than 20% of IBARMIA's annual electricity consumption. This means that we will achieve significant self-generation of energy, which will translate into considerable savings in CO2 emissions and carbon consumption.
The commitment to solar energy is part of IBARMIA's environmental responsibility strategy, seeking to reduce its carbon footprint and contribute to environmental conservation. By harnessing solar energy to cover a significant part of our electricity consumption, IBARMIA will reduce its dependence on traditional energy sources and reduce its impact on forest clearing.
This initiative adds to a growing trend in the business sector towards the adoption of renewable energies. More and more companies are recognizing the importance of sustainability and are looking for clean, renewable alternatives to supply their energy needs.
With the installation of these solar panels, IBARMIA demonstrates its commitment to sustainability and its leadership in the implementation of responsible energy solutions.